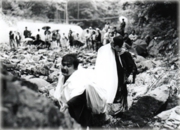 Gekidan Kaitaisha was organized in 1985. We advocated 'theatre of space', playing outdoor performance at stations, roads, riversides, parks, etc. Furthermore, we created Yugyo no Keshiki -The Drifting View, in which we planed new generation and transformation of theatre space, by changing performing areas one after another (with audience) in one performance instead of fixing audience seats. We toured this program in Toga Festival ('89, '95), Hinoemata Performance Festival ('86-'89), Atlanta Festival ('93), and so on. We opened our atelier, Kenzosha in Inukura, Kawasaki city in 1988.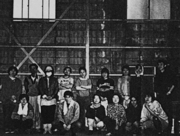 In 1993, we moved to Hongo, Bunkyo ward, and opened our new atelier, Hongo DOK. Based on this place, exploring 'theatre of corporeality', we worked on criticism against 'the human corporeality' and the power/violence aiming at this corporeality. Our works from 1990's to early 2000's represented by Tokyo Ghetto and Bye-Bye, created from these inquiring and having the theme of 'the war corporeality', were invited from Japanese and foreign famous pioneering festivals, such as Tokyo International Festival ('95, '96), Eurokaz Festival (Zagreb '96, '97), and Laokoon Summer Festival (Kampnagel, Hamburg '01). We had a reputation that 'Gekidan Kaitaisha was one of the most influential experimental theatre groups in the world avant-garde theatre scene'.



From 2004, Shimizu Shinjin, the director of our group, and interested members started the international collaboration series that named Dream Regime to consider 'physical representation of bio-politics' in the globalization after 9.11. Staying in the fields for a long term, we have collaborated with performers, artists and researchers of foreign countries, aiming for the performance in which theatre becomes "the test site of the thought". To date, we have developed the series of performances and residence in Wales, Jordan, Brazil, East Timor, U.K, Germany, Australia, Denmark, Poland and Japan for inquiring the hidden 20th century's history of mobile and multi-layered many cultural spheres.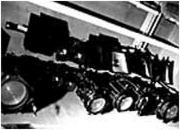 In 2011, we planned another international coproduction work that named Posthuman Theatre in order to respond to the contemporary situation of 'human being forgetting the history and animalizing' that Alexandre Kojève had described. The collaborator is Theatre Cinema, the Polish avant-garde theatre group 'after Tadeusz Kantor'. As a beginning, we made performances in Morishita Studio (Tokyo), and in 2012 we performed a tour of Poland and Germany.. This project, featuring the theme of 'the loss of gestures' and the recovery from this state, is attracting attentions from the various quarters as "the experimental stage indicating the distance from 'the contemporary theatre after 3.11'."

In 2013, we moved to Ichigaya in Tokyo and opened the new atelier, Sanaizaka Studio.
Now we are challenging the new 'theatre of testimony', featuring the theme of the regeneration of tabooed, abandoned 'words' and 'bodies'.